Privacytopia Binary is an exhibition and side event of the upcoming 10th International Computers, Privacy and Data Protection conference in Brussels on 25th – 27th January.
Running from Jan 13 – 29, Privacytopia is organised by Privacy Salon and artist, curator and researcher Bogomir Doringer, whom we recently spoke to ahead of the opening, as well as duo The Museum who are presenting as part of the exhibition.
The exhibition explores the issues of privacy and surveillance from unexpected perspectives. The event details and audio interviews are below the jump.
brbxoxo
Artists Addie Wagenknecht and Pablo Garcia, for the project titled brbxoxo, created software that searches online sexcam sites and only broadcasts feeds when the performers are absent. The camera starts recording when the software concludes that the subject is not visible and films the interiors of the models' houses. brbxoxo explores our intimate screen-based relationships with the digital world, where the webcam attached to our computer becomes surveillance with and without consent.
Webcam Venus
For the project Webcam Venus, Addie Wagenknecht and Pablo Garcia asked online sexcam performers to replicate iconic works of art, thus creating an experimental homage and reenactment of famous fine art works from collections of world renowned museums.
Sexcams use webcams and chat interfaces to connect amateur adult performers with an audience. Users log on to see men, women, transsexuals, couples and groups broadcast their bodies and sexuality live for the public, often performing for money. This work shows the internet phenomenon of cams, using self-surveillance to create a performance for the audience. In order to create this experiment in high and low brow media, artists assumed anonymous handles and spent a few hours each day for a month asking performers: "Would you like to pose for me?" Final results of this project are diptychs showing original and contemporary version. Artists wanted to document the beauty of these people and employ them in a different way.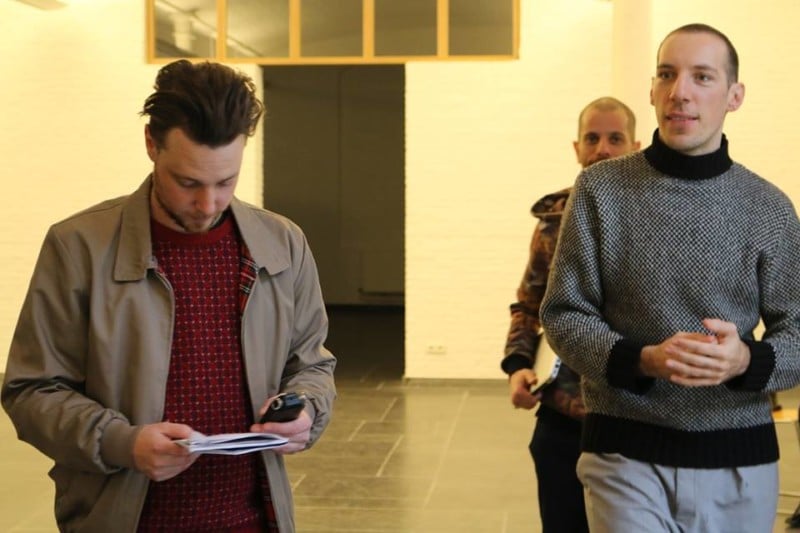 The Museum: The Search Machine
The choreographer Bruno Listopad and the architect/artist Nikola Knežević collaborated for the first time in creating the installation SHOW MORE (2015) at De Stroom Den Haag, space for art and architecture in The Netherlands. The focus of the project was on YouTube online activities of "non-artists" that facultatively and publicly share a designed image of themselves or their desires, according to their own principles. These individuals consciously in their private spaces self surveille themselves and take charge of their online representation by transforming themselves into subject-objects that either comply with or challenge established norms of behavior.
The performative qualities these works have and the creative strategies they employ raise questions about the distinction between art and "non-art" practices. They could also be seen as fetishistic experimentation. In these videos destruction of famous brands play an important role. These brands are shaping contemporary identities. Materiality and looking for new materials in process of creation is fascinating too.
To intensify their qualities the artists present the works within a digital art space – The Museum – that was created to emphasize the notion of the Internet as today's largest archive and panoptical museum. The Museum is conceived as an